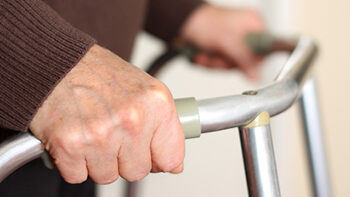 One in four seniors falls each year, often with serious consequences. Most of these falls occur within their own homes. The National Council on Aging reports that every 11 seconds, a senior is treated in the emergency room due to a fall, and every 19 minutes a senior dies from falling. Given these alarming statistics, it is incredibly important to make sure your home is made safe for seniors and that obstacles that present tripping or falling hazards are removed.
However, enhancing your home for senior living or for living with those who are disabled is more than removing tripping hazards. It includes making doors wide enough to accommodate wheelchairs, making sure switches and cabinets are accessible, and keeping bedrooms and bathrooms safer.
There are a number of ways in which this can be accomplished, some of them costing little to nothing, while other home improvements could run you into the tens of thousands of dollars. The key is to make slight adjustments as you live in your home so that by the time you have arrived at your golden years, your home is ready for you. If you have moved your aging parents in with you or you have a family member who has become disabled then you will have to make the improvements at a quicker pace. Use the following information to make sure your home provides a safe and comfortable living arrangement for everyone.
General Home Safety
In 2015, the American Association of Retired Persons (AARP) identified that over 34.2 million Americans provide unpaid care to adults in their home over the age of 50. As a caregiver to a senior or someone with a disability, you must be able to provide security, safety and comfort. To ensure your home is a fit environment, here are some tips to keep your home and your guests safe:
Keep stairs safe: Check that all stair railings in and outside the home are sturdy. Make sure all staircases are well lit with a light switch at both the bottom and the top of the stairs. If stairs are becoming increasingly difficult to maneuver, a stair lift should be installed to maximize safety.
Remove loose rugs and clutter: Remove any loose rugs or carpet runners, as they can become a slipping or tripping hazard for seniors due to their limitations in mobility.
Install smoke detectors and carbon monoxide alarms: Install smoke detectors and place a fire extinguisher on every floor of the home. Smoke detectors should also be installed in every bedroom and should be located in the hall outside sleeping areas. Additionally, it is important to have a working carbon monoxide detector that alerts with an alarm. Check both types of alarms regularly to ensure they are working properly.
Keep the home well lit: Install new light bulbs throughout the house and add extra lighting, such as night lights, light switches or remote light switches to decrease the time spent moving around in the dark.
Secure outside areas: Make sure pavers and walkways are level and that there are areas where seniors can stop and sit if tired.
Enhancements in the Bedroom
Balance is often a key issue with seniors, so providing a sturdy chair to sit on when dressing will prevent falls. Additionally, seniors may suffer from arthritis, and the simple act of turning on a bedside lamp may be difficult.
Therefore, you may wish to opt for touch-activated lamps. Consider placing small nightlights around the home in case someone gets up in the middle of the night. In addition, it is helpful to:
Provide storage that is within easy reach.
Organize drawers so items are easily found.
Make sure the bed is at a good height.
Place a phone with enlarged numbers (and a list of emergency numbers) on the bedside table.
Enhancements in the Bathroom
One of the most vulnerable areas for seniors is the bathroom, particularly the shower and tub. To prevent falls, consider installing grab bars to the shower walls and bathtubs. Place some beside the toilet as well to facilitate sitting down and standing up. Consider installing a toilet that sits higher, or purchase an extender that reduces how far a senior has to go to sit down. You can also purchase inexpensive do-it-yourself (DIY) grab bars that have suction cups to adhere them to the wall.
If your finances allow, consider lowering thresholds on showers and installing a chair for seniors to rest on while showering. Handheld showerheads are the best for seniors, as it allows them to sit and have a full shower without having to move too much. This is also ideal for those who are in a wheelchair.
Enhancements for the Kitchen
The kitchen area is another place where seniors and the disabled have difficulty. Often, the cabinets are inaccessible to those in wheelchairs, and the countertop height is too high. If you are able to do so, reorganize the kitchen so everything is within a small triangle so seniors and disabled individuals do not have to look for items in more than three places around the kitchen.
Make sure appliances can be accessed and that pantry shelves have the more important items within reaching height. Also, consider the following changes:
Purchase a stove that has the controls on the front rather than the rear to prevent burns.
Make sure the microwave is not over the stove. If it is, lower it.
Consider using pull-down shelves.
Keep a stool handy so seniors can sit while they work.
Make sure there is plenty of good lighting.
Do Not Forget the Garage or Storage Areas
Many seniors or those who are disabled will want to have access to the garage or other storage areas. Garages should be kept clear of excessive clutter and debris, as these can cause tripping accidents. Make sure the large center portion of the garage is kept clear. If a vehicle is parked in the garage, make sure there is a carbon monoxide detector so a senior does not inadvertently forget to turn the car off before exiting. In storage areas, make sure any steps that must be used to get into those areas have rails to hold onto, and that there is adequate lighting in such storage sheds.
By Mathew Sams –