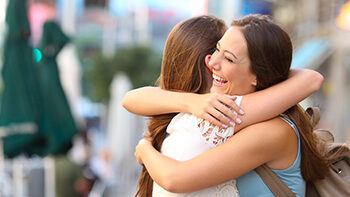 Whether moving to a new area for professional or leisurely purposes, doing so can be an exciting but terrifying life change.
From the unfamiliarity of living in a new area to having little to no friends to meet up with after work, moving to a new area can be lonely for the first few weeks or months. However, making friends in a new city is easier now than ever before, thanks to the internet and the abundance of smartphone apps and social media sites dedicated to connecting people.
If social media isn't your thing, however, there are plenty of other ways to make friends in a new city—especially during the warmer months. For instance, many cities offer free concerts in the park and outdoor yoga classes, plays and art exhibits, making events such as these a great opportunity for connecting with other likeminded individuals. To expand your social circle after moving to a new area, keep the following tips in mind.
#1
–
Check your social media networks
Even if you aren't a regular Facebook user, you may find comfort in knowing that people from your past are living in the same city as you. To determine whether any of your Facebook friends live in your new city, logon to your Facebook account and type "friends in [city]" in the search bar at the top of the page. If your search returns any results, send your friends a Facebook message and see if they'd be willing to meet up and introduce you to their social circle.
#2
–
Volunteer in the community
Many of the best adult friendships develop when both parties are passionate about similar topics. Therefore, volunteering with a local organization that supports your favorite causes can help you to meet likeminded people in your new city. For instance, websites like VolunteerMatch connect animal lovers, seniors, educators, artists and other passionate individuals with other likeminded people in their area.
#3
–
Join a Meetup group
Meetup is a global website that connects residents to events and groups in their area. For instance, Meetup can be used to search for local volunteer opportunities, networking events, classes, clubs and more. By joining Meetup and finding a local event, new residents can explore their city, learn a new skill, and make new friends in the process.
#4
–
Download the CitySocializer app
If you move to a major city such as London, New York, Leeds, Manchester or Bristol, download the CitySocializer smartphone app to explore upcoming social events in your city.
Through the app, users can find groups of likeminded people to have coffee or see a movie with, helping them to expand their social circle both online and offline. Users can even organize their own social gatherings!
#5
–
Attend events in the community
Many cities offer free community events such as yoga in the park, outdoor concerts, meditation classes, art exhibits, tennis matches, board gaming tournaments, book clubs and more. To find an upcoming event, simply contact your city's neighborhood and community relations coordinator or visit your city's website to obtain a calendar of upcoming events. As another option, many public libraries offer free classes and social events, so check with your local library as well.
Related Article: Pros and Cons of HOAs
#6
–
Share rides with other residents
If you're an introvert, you may cringe at the thought of sharing an Uber or Lyft ride with an unfamiliar passenger while also engaging in conversation with him or her. However, doing so can help you to make friends in your new city, while also reducing the cost of your ride at the same time. When you use Lyft Line or UberPOOL, for instance, you can share a ride and split the cost of the fare with another passenger who needs a ride in a similar direction. Even if a new friendship doesn't blossom during the ride, you'll be able to strike up a conversation and meet new people in your city.   
#7
–
Attend local alumni events
Depending on which college or university you attended, your new city may host events for fellow alums in your area. To find alumni events in your new city, simply perform an online search with the name of your college or university and the name of your new city. If you attended the University of Minnesota but recently moved to Portland, Oregon, for instance, you could search for "University of Minnesota alumni Portland".
#8
–
Join a gym or fitness studio
Even if you don't work out on a regular basis, sign up for a weekly class at a gym or fitness studio to help you meet other health-conscious individuals in your new city. For instance, possible classes may include yoga, Pilates, spin, barre, CrossFit, Zumba, kickboxing and martial arts. After signing up for the class, arrive early and stick around after the class ends to give yourself a chance to mingle with other participants.
#9
–
Try coworking
If you work out of your home or move to a new city as a freelancer, you may feel isolated if you spend most of your time alone without the benefit of having coworkers to socialize with on a regular basis. However, coworking allows you to work with other telecommuters in a public setting, without needing to work for an employer in a standard office environment. For instance, some coworking spaces may include coffee shops, cafes or other informal settings, while companies such as WeWork allow you to rent out formal office spaces around the world. However, rental fees through WeWork generally range between $220 and $450 per month.
#10
–
Download a friend-finding app
If you're shy or introverted, you may feel more comfortable connecting with new people online before meeting them in person. Luckily, a growing number of friend-finding smartphone apps are available for download. For instance, these social apps may include Bumble, Peanut, Nearify, Meet My Dog and MeetMe. Through the Bumble app, for instance, users can meet new friends (Bumble BFF) find a date (Bumble Date) and network with career-minded professionals (Bumble Bizz). Using Bumble BFF, members can create public bios and upload six photos to help them find other likeminded people in their area. They can even connect their Instagram and Spotify accounts to help them find the ultimate BFFs in their new city.
Related Article: Ways to Find Inexpensive Furniture and Decorations
By Larissa Shelton –